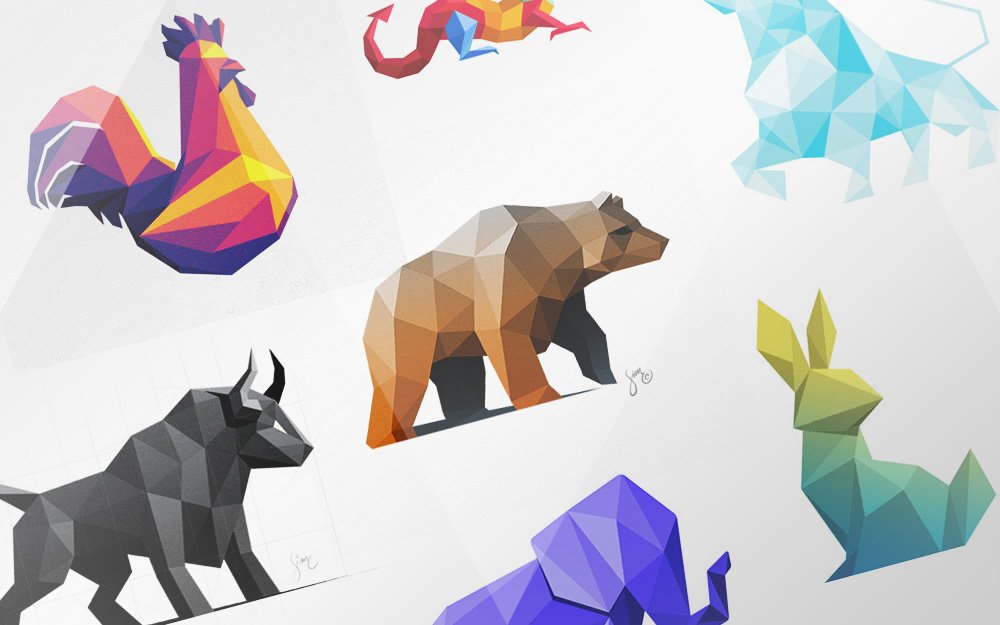 45 Amazing Polygon Logo Design Examples: Animal Collection
One of the trend in logo design today is using the technique of low polygon logo. This simply refers to designs that use sharp surfaces in combination with geometric shapes and textures to create a 3D model. These techniques with deliberate color combinations can create designs that pop!
In this article, I have collected 55 awesome animal logos that use low polygon design technique. These polygon logo designs are looks stunning and very attractive. To inspire you to create something best for your clients or for your personal project. Move your down key, have a look and Enjoy!
See More Animal Logo Collection:
icon-arrow-circle-right 30 Awesome Animal Logo Marks by Ivan Bobrov
icon-arrow-circle-right 28 Animal Inspired Fresh Logos
icon-arrow-circle-right Circle Animal Logos With Tom Anders Watkins
icon-arrow-circle-right Showcase of 30 Creative Logo Designs Inspired by Animals
Polygon Logo Designs: Animal
Poly Owl Logo by Breno Bitencourt

Lowpoly Blue Bull Logo by Breno Bitencourt
Rad fox by Breno Bitencourt

GRAPHIUM WEISKEI ARFAKENSIS – Flies Files Project – #002 by Breno Bitencourt
Bleón Logo by Breno Bitencourt

Blue poly bird by Breno Bitencourt
Poly Bird Logo by Breno Bitencourt

Dragon by Yuri Kartashev
Deer by Yuri Kartashev

Polygon Wolf by Chris Lüders
Golden Unicorn by simc

Polygon Gorilla by Chris Lüders
Bear | Logo Design by simc

Bull | Logo Design by simc
Fox by Yuri Krasnoshchok

Bear by Yuri Krasnoshchok
Lion by Yuri Krasnoshchok

The Bear by Yuri Krasnoshchok
Drawinks by Yuri Krasnoshchok

Polar Bear by Kemal Sanli
St. Paul UCC Logo Mark by Troy Brennan

Chameleon Logo by Diana Hlevnjak
Geometric Deer Logo by Diana Hlevnjak

Low Polygon Wolf Head by Diana Hlevnjak
Low Polygon Pink Bird by Diana Hlevnjak

WIP frog by Tomáš Mitana
Fashion School Marketing by Andriy Yurchenko

Oligomer by Barış Onay
Bull by Sébastien Grégoire

Polygonal dolphin for EMS Company by RFND
One hen, two logos by Sébastien Grégoire

Hippo head by Stanislav Sheshenin
summer.ai Logo by Manuel Ebert

Red Elephant by Yuri Krasnoshchok
Poly Rabbit by Bradley F Edwards

Wolf Polygon Logo by QhueCreative
Pigeon Express by iqbalhakimboo

Hawk by iqbalhakimboo
Elephant by Amanda Donovan

Polyon by Jord Riekwel
Poly Bird by Jord Riekwel

lion's head – logo by Rafal Bromirski
Bear Logo / Final by simc

Silver Owl by Nihal Bora
Rabbit by Yuri Krasnoshchok