13 Best Landing Page Templates for Effective Product Promotion
How to gain many customers that will buy your great product/service? One of the best way is by creating an effective landing page for your product. So a well designed landing page can be invaluable. With many great landing page templates out there. Nowdays, to have a great landing page is very easy. Choose one of the best template then install to your site.
To help you find the best template for your effective product promotion, in this article we have collected 13 Effective Landing Page Templates that you can use and avail. These templates will help you convert visitors into buyers. Enjoy!!!
WordPress Themes
Oceanic – Premium WordPress Theme


by jonathan01
Whether you are looking to start a blog, sell a product and/or service or present your works of art, Oceanic has you covered. From the easy-to-use custom admin options panel where you can set slider transitions, upload your logo, choose categories to pull articles from and so much more. Customize each page and post by choosing any template and add any mix of the shortcode columns and styled elements directly from the HTML editor buttons!
Screenshot

Feature List – a theme designed to sell


by tonyc
FeatureList is a truly flexible wordpress theme that can be put into practice in a variety of ways. It can easily be used as a landing page for a product or a service or you can use it to quickly and professionally put your business in front of the world. This theme perfectly accommodates the needs of small and mid-sized corporate websites with it's functionality.
Screenshot

HTML/CSS Themes
X-Tech Landing Page


by Shegy
This premium landing page has been produced with the marketer in mind!
Included in this template package are 3 HTML pages. The landing pages are perfectly formatted using good practices for landing page design including strong, obvious CTA areas (Call To Action) to help convert visitors into clients / customers. You can choose between 3 page variants: Single big image, where the main focus is on a big image with a Call to action below. Second variant includes some more info in main top area, call to action button and the video embaded. Third variant insteed of a vide has a image slider.
Screenshot

Promo – Landing Page for Digital Product Sales


by pixelentity
Whether your desire is to drive Envato marketplace sales, increase your affiliate income or promote and sell your own digital goods, promo makes things easy for you. Sporting a clean minimal style, with lots of breathing space, ensuring nothing get in the way of your product's showcase. Easy to set up, maintain and easy to replicate for new products, this sophisticated little template is a steal.
Screenshot

Clickr Landing Page


by SaurabhSharma
Clickr is a click-through landing page with above-the-fold layout and straight forward message – "Read the offer and Click to buy".
The product/service offer is conveyed in form of a speech bubble, raised by a Company Logo. A big call-to-action button is separated from a smaller secondary call-to-action, to encourage buyers more towards the "purchase" and not the "trial download".
Screenshot

BookPage – Sell your books with Style!


by Hein
BookPage is the landing page template for all those internet marketeers who are releasing their own (E) Book. It has everything you need to show of your hard work.
Screenshot

Lista Landing Page


by Wickedshot
Lista Landing Page is a premium landing page design for your newsletter or download, even just a service, your choice! Lista Landing Page takes good use of the Z Reading pattern to guide the eye around the design and ultimately convert your visitors in to subscribers or buyers.
Screenshot

Conversion – Premium Landing Page


by AdiPurdila
Conversion is a premium HTML landing page. Its great structure and clean, professional design as well as a variety of page templates allow it to fit to both transactional and reference landing pages.
The main goal of a landing page is to convert visitors into customers, therefore the layout is specially designed and fitted with a variety of features that will make that happen. Coupled with a structure that's highly customizable, this product will be perfect for your product, service or company presentation.
Screenshot

Simpler Landing


by 960development
Simpler Landing Page is a premium landing page with lots of features and customization options. There are 11 fully independent sections that can be arranged in any sequence to create a variation of your own choice.
Screenshot

Klix Landing Page


by SaurabhSharma
Klix template is designed for instant promotion and marketing of your product. The template is a mix of click-through landing page and micro site. Depending upon your requirements, the template can be used as a stand-alone squeeze page, or a micro site. With above-the-fold-layout, product sliders, image gallery and working subscription form, the template can be potentially used to convert your visitors into buyers.
Screenshot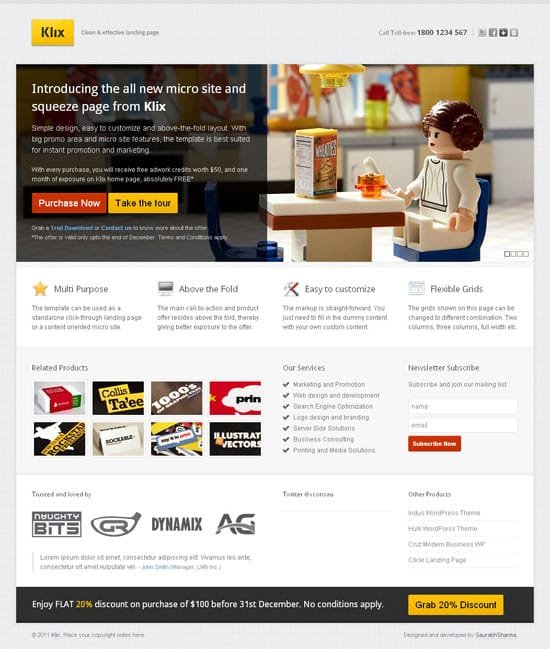 Oceanic Landing Page


by jonathan01
ceanic Landing Page is a premium landing page design for any kind of app or download product – even just a service – your choice! With multiple sections available, plus a tabbed area for a huge amount of information if required, this template takes good use of the Z Reading pattern to guide the eye around the design and ultimately convert your visitors in to buyers.
Screenshot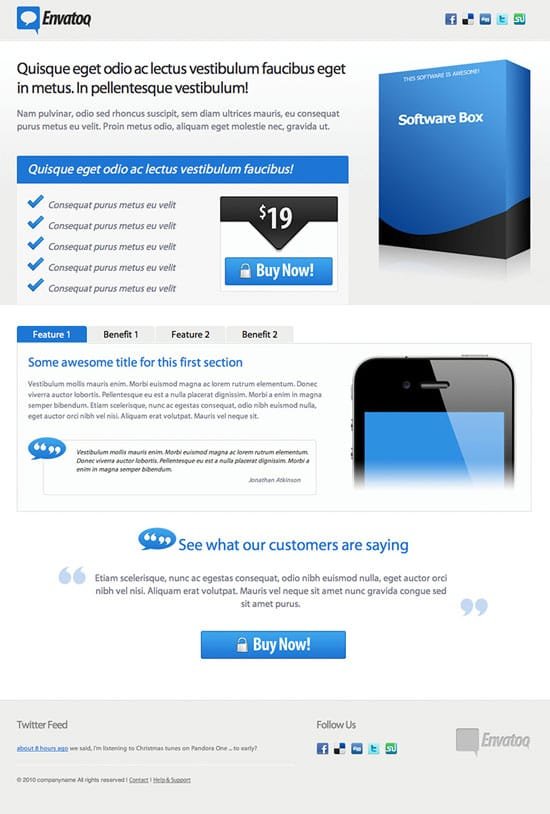 Integro – A Corporate Landing Page


by semicolonweb
ntegro is a Corporate HTML /CSS landing page. It has a clean, professional design with a Definitive Call to Action. Integro is a powerful Landing Page with features like Live AJAX Form Submission, Pricing Table, Lightbox, Tooltips, 2 Types of Galleries and Image Sliders. You get started with Integro within minutes & only handful of Customizations with well documented HTML / CSS / JS & PHP.
Screenshot

Revolver premium landing page template


by iWebStudio
New premium landing page template with modern and professional design. Very flexible layout and easy to customize, suitable for corporate, promote product, application, affiliate, software, marketing..etc. Coming with 3 layout variations and 4 background options. Total 12 HTML files that you can use for landing page.
Screenshot