Favorite Links of The Week – Resources for Brand Building – N.11
Favorite links of the week is our weekly column which we share our favorite posts, articles, and resources about brand identity design with the readers that there are very useful for us, and we think there are will be useful too for the readers. This week we have the basics, series, tips and strategies that will help you to build unique and memorable brand.
If you would like to be kept up to date with our favorite links of the week you can follow us on twitter, or even by subscribing to our RSS feed.
What's Brand?

By James Costa
Brand is an important part of any business. So why do some of us claim we brand businesses, when we fall so short on it's definition and limit ourselves at logo design? There are many factors that affect a brand and these factors can contribute to a unique and long-lasting brand.
The Basics of Brand Building – Who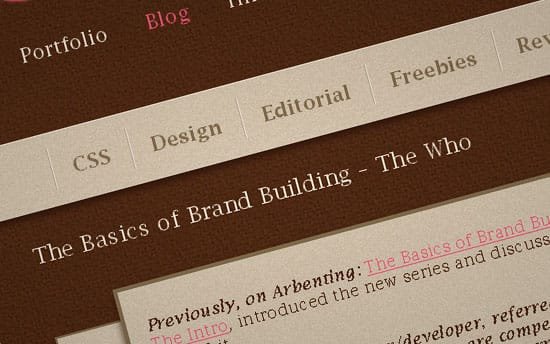 By Arbenting Design
The series about basic brand building and after you set out on the branding course be sure to address those six standard questions: the who, what, when, where, why and how of branding. Let's start with Who?
9 Tips for Brand Building With Web Design

By Dmitry Fadeyev
First of all, what is a brand? A brand is a symbol. Symbols are designs which represent something else, and a brand is meant to package all of the associations, experiences and characteristics into an abstract construct.
Here are 9 tips to help you to build a brand with web design.
Strategies for Choosing a Memorable Brand Name
By Brian Hoff
Choosing a name for your business is far more nerve racking because it's permanent, or at least should be, and should capture the essence a company. Below are techniques to help you and your clients generate a memorable, meaningful and unique brand name.
Freelancers, Where Does The Brand Stop and You Start?


By Rob Bowen
Very good opinion about other important factor for brand building, is "Yourself" included originality, some level of professionalism and clear communication.