Wonderful Twitter Backgrounds – Weekly Inspiration #6
Weekly inspiration is a weekly post series that will come around every Thursday. Every week we'll be posting a thematic beautiful, brilliant and creative brand identity design to help you get the inspiration. And for this week you'll find some of creative and wonderful twitter background for your inspiration.
Four goals to be achieved when making a twitter background :

Displays well on the widest range of monitors
Visually conveys what you're about
Contains extra information about you or your company
Loads quickly

by Terri Stone
If you would like to be kept up to date with our weekly design inspiration you can follow us on twitter, or even by subscribing to our RSS feed.
ibrandstudio

designia
sitepointdotcom

aaronmillerillz
sickbrain

elitistsnob
wpbeginner

DesignerDepot
Farrhad

imgraphicscmyk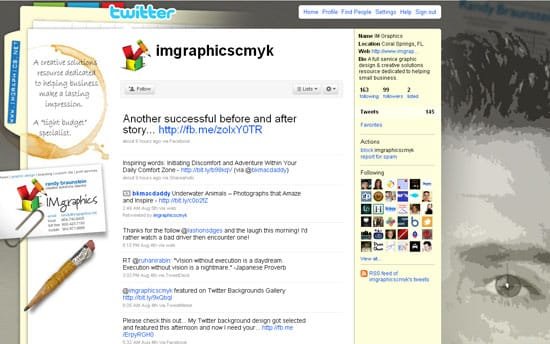 CoutureCreative

centerforwomen
nutellaindeed

flezten
95pourcent

Free Twitter Background Template
Our high quality twitter background psd template with style bokeh effect and gray color. Enjoy!

We hope you like this selection of wonderful twitter background design as much as we do, feel free to comment and let us know what you think.
Thanks 🙂