Giveaway: Tailor Made Newsletter Templates from Emailwear
Yesterday we just release a free elegant pink newsletter only in PSD template, today we have a complete newsletter in HTML and PSD template as a great giveaway contest sponsoring by Emailwear. In this giveaway, 5 lucky iBrandStudio readers will get a business license of Contendo email template worth $25 each.
UPDATE: We've got the winners, please check this page to find out.
Who are Emailwear?


Emailwear is a marketplace of premium email templates. It adds color and style to your newsletters, and makes it easy to read, friendly and enjoyable.
Keep it simple is our rule. We strive to make clean composition, fresh look, legibility accessible to people who send or receive emails.
You receive all necessary items to create a customized look for your newsletters. Change colors, get rid of a column or add one, modify layout so that it harmonizes with your message, your tone of voice, your business identity. Make your message sound and look beautiful.
Feel free to work with any email client. We test our newsletter templates in main email clients, and will offer support in case an Emailwear template does not look properly in a particular email client.
Everyhing you find on Emailwear is created by experienced and talented web designers and is not accessible elsewhere. We can both create personalized templates for your ready to send emails, and create code for your newsletter design.
If you care about your subscribers, you must offer them readable and enjoyable information. This requires visual consistency and appealing composition. And that's what Emailwear is for.
User-friendly, clean, stylish and reliable are essential features for the email templates we design for you. Choose which style and design suit you best.
Please check their newsletter templates here: Emailwear Templates.
What Do the Winners Get?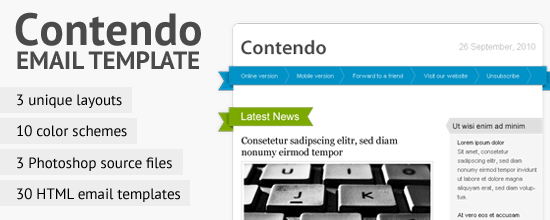 The winners get a business license of Contendo email template. The template is pleasant and neutral, welcomed by persons with different tastes, a reliable alternative for a good message impact.
How do you participate?
Tailor made newsletter designs are waiting for you, you have just to folow the instructions below.
Tweet this contest by using tweet button below and follow us on twitter: @ibrandstudio and @emailwear
Leave a comment below with your twitter account and don't forget to provide us with your valid email and name. The winners will notify using the Email.
We will pick 5 lucky readers and announce the winners on Thursday June 9, 2011. The winners will be selected at random and will be informed directly after the competition ends via email.
Good luck to everyone!
UPDATE: We've got the winners, please check this page to find out.