Although nowadays, we use digital text pretty much everywhere, nothing beats the look and style of some handwriting. Handwriting looks natural, it looks personalized and in a lot of places, it looks a lot better than standard Helvetica.
If you ever feel like looking at some hand-written text but don't want to pick a pen and paper, you can generate some using online tools. Maybe that sounds a little strange, but don't worry, we will clear it up for you soon.
In this post, we will look at how you can use online tools and easily generate handwritten text in a matter of seconds. But before that, let's first understand how these tools actually work.
Why Use a Text to Handwriting Converter?
While it is possible that you just want to see some handwritten text, there are actual, legitimate reasons for using a text to handwriting converter. Given below are some possible use cases for using a handwriting converter:
It can be used to create personal messages. For example; a letter to a loved one, family member, or friend. Typed messages feel too distant, alien, and unnatural, hence handwritten text is much better in this situation.
People who develop applications and programs for text recognition can utilize a text to hand writing converter for testing purposes. Currently, OCR applications are great at detecting digital fonts, but they need more work to be able to reliably detect handwriting. With text to handwriting converters, testers can check the accuracy of their text recognition tools by utilizing a variety of handwriting styles.
Students can use it to save time when writing assignments. Writing an assignment by hand is fraught with troubles such as being unable to edit any mistakes, and having to start over. However, digitally creating assignments allows people to bypass this problem. So, students can create assignments digitally, and convert the final draft into handwritten form for submission.
These are some plausible use cases for text to handwriting converters. Now, we will check out how such tools actually work.
How do Text to Handwriting Tools Work
These tools basically transform the text of the input content using such fonts that appear handwritten. For example, you can transform your normal digital text into an untidy scrawl or make it cursive.
The text is then displayed on a canvas, which can take the form of a blank sheet or a lined piece of paper. In most tools, you can also change the line spacing to adjust where the text sits i.e., slightly above the lines, directly on top, below, or wherever you want it.
This is more or less the general working of these tools. Now, let's look at how you can use them from the very start of the process till the end.
How to Convert Typed Text into Handwriting Text
1. Step #1:
The first step that you have to follow in order to convert typed text into handwriting text is to find an online tool.
There are a lot of such tools available on the internet, so we suggest browsing and viewing a couple of them before deciding on a particular one. By the way, we've also listed a couple of them at the end of this article to save you time.
To find a good tool, you can just run a query on the search engine. Or, you can look for online posts that discuss the "top 10" or "best 5" tools for converting text to handwriting.
2. Step #2:
Once you have selected the tool of your choice, you have to go ahead and put your content into the input field.
Depending on the tool you're using, there can be a number of different features and options that you can use for fetching your content. You could, for example, directly copy-paste the content, import it from Google Drive, or simply upload it from your device.
3. Step #3:
Moving on, once you have entered your content into the provided space, the next thing that you have to do is specify the tool options such as the page background, the writing style, and the ink color. Of course, these features will be present or absent depending on the tool that you're using.
If you're using a high-end tool, you could have access to all these features. On the other hand, if the tool you're using is not that high-quality, then you could be deprived of all such features.
To show you what these features look like, here is an image from a random text-to-handwriting tool from the internet.

4. Step #4:

After selecting your required handwriting style and other options, the tool will convert the text into the style of your choice.

Once the text has been converted, it can be exported as an image file or printed to use in physical documents. This makes the text-to-handwriting tools particularly useful for creating personalized cards, letters, and other documents.
Suggested Text-to-Handwriting Tools
Now, that you have understood what is text to handwriting tools are and how you can use them you may want to see some real examples. In fact, most people out there will have this question in their minds i.e. what is a decent tool for this purpose because there is a range of tools available online.

In order to save yourself some quality time, we have discussed multiple tools below.
1. Text To Handwriting Converter by Editpad
The text to handwriting converter by Editpad comes with a simple interface and has an easy-to-use design. It changes your entered content into handwritten text.

There are a number of useful features that make a good tool for online users. For one, it comes with different handwriting styling features. It is also free to use and there is no registration required.

As we mentioned above, there are some features that you can find in online tools that basically allow you to change the style and color of the generated font as well as the background.

The text to handwriting converter by Editpad is one such tool since it comes with 8 different handwriting styles, 5 different page styles, 4 ink colors, and selectable sizes for heading and normal text.

The eight handwritings are just different versions of cursive. Some of them have less spacing between each letter, while others have more. Some are slanted and others are more or less straight. But nevertheless, there is enough variety.

Pages are either lined or blank, white or dark and one type has borders too. The four ink colors are just the standard black, red, and blue pen. The last type is a gel pen which is just a blue pen but with different textures.

Using this tool is easy and simple. You simply have to enter the heading text in the space provided as well as the main content in the field below it. Then, you have to specify the options given below the input spaces. The results will be shown in real-time.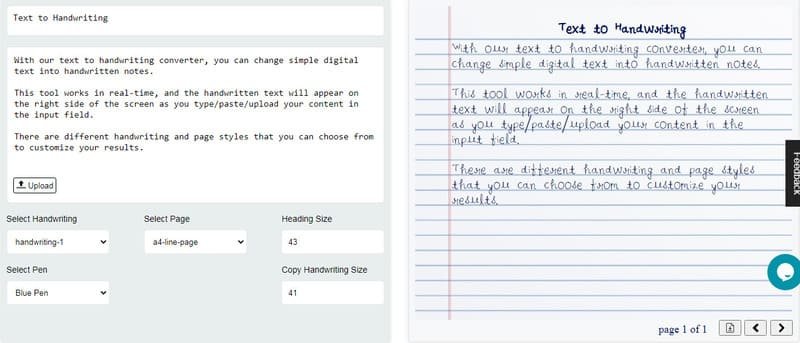 Pros:
Easy to use
Free for all
Multiple writing styles
Multiple file importing options
Real-time conversion
Cons:
2. Text to Handwriting by Textreverse
Text to handwriting converter by Textreverse is another decent tool for converting typed text into handwriting style text. This text to handwriting tool allows users to make handwritten notes without additional effort.

This tool has a simple to use interface. All you have to do is to first type the heading of your text in the text box and also normal text and then select a handwriting font. There are 8 different writing styles and 4 pen colors (black, red, blue, and gel) available.

Just like the previous tool, most of the handwriting styles are just various forms of cursive. However, Textreverse does have non-cursive writing styles too, so you might want to check it out.

As for page types, they are exactly the same i.e., lined, unlined, unlined with a border, and unlined with a dark background.

Additionally, this tool also allows users to customize the text size, heading size, page size, and ink. You can see all of these features are present by checking out the picture below.

Pros:
Easy to use
Free for all
Multiple writing styles
Multiple file importing options available
Cons:
Doesn't provide side-by-side results.
Does not provide sample text
Final Words
In conclusion, yes! You can easily create handwritten text by using tools. In this article, we have discussed a step-by-step procedure for doing so.

We have also seen how a text to hand writing converter works as well as some possible use cases. We saw that there are legitimate uses for handwriting converters such as for testing optical character recognition software.

Additionally, we also suggested multiple online tools to save you time in searching for one yourself. The discussed tools are free, easy to use, accurate, and most importantly quite fast.

Hopefully, after reading this article you will be able to utilize handwriting converters for your own benefit without any hassle.