Mobile technology and social media have drastically improved business operations. However, some businesses still rely on laptops and desktop computers to run their businesses. It is possible to use your phone to run all your operations from any place at any time.
The outbreak of Covid-19 has led to an increase in online activities, which means that you can use mobile apps to reach your customers.
Top 7 Apps for Build and Monitor Brand Marketing Campaigns
Here is a list of 7 apps you can use to build and monitor your brand digital campaign in 2021.

Canva offers features to allow you to create professional custom brand images for social media advertising. Create custom images using drag elements and the pre-built templates. Canva has an integrated social sharing feature that allows you to share images on your phone.
This app also has an image editor that is ideal for creating printed brand materials and great startup logos for your business. A business logo is the face of a business, and therefore you need to create a professional logo to enable your audience to connect with your brand.
Canva can select the design template that is suitable for your business. You can select templates for creating presentations, business logos, ads, resumes, social media posts, banners, e-books, posters, email headers, business cards, and much more. The app makes it simple for you to create brand images on your phone faster.
If you are creating an Instagram post, Canva can allow you to leverage stylized text, image elements, the existing layouts and upload photos to fix them into your design. Layouts ensure that your design looks attractive and impeccable. Canvas avails all the design layouts to you for free and you don't need to be an expert in using this app.
Facebook Ads Manager is a powerful app that can assist in running Instagram and Facebook advertising campaigns. It can allow you to create and monitor Facebook ads edit budgets and schedules, and receive notifications on your phone.
This app can help you to stay ahead of your competitors in terms of managing your digital marketing campaign. Facebook brand awareness ads are attention-grabbing and versatile. They allow you to connect with people who can easily remember the ad and improve the brand recall.
It is important to begin by setting the reach advertising objectives. With the objectives, you can set select the number of times you want your ad to be viewed. If you are using a video ad to create brand awareness, the video views objectives allow you to create deeper connections with the audience for a particular period. You can use the Facebook auction to deliver the highest performing and most relevant ads from your campaign.
To monitor your campaign, determine if the auction buying type is the most appropriate for your advertising campaign. Determining the Facebook ad objectives that are related to your company goals is a great way of building brand awareness successfully. You may want to get more email subscribers or new leads.

Buffer can enable you to schedule updates to several accounts on Facebook, Twitter, Pinterest, and Instagram. The app facilitates follow-ups with statistics on the performance of each post. You can choose the Ios app version to share and schedule from inside other apps such as Safari.
Use different copy for every social media network to ensure that your content reaches more people and stays fresh. You can also adopt specific hashtags that are ideal for each of the networks.
Buffer has the Instagram integration feature that is available for both Android and Ios. This is good for building an Instagram profile, sharing user-generated content, and driving traffic to your social account.
Buffer allows you to share the evergreen content severally across social media accounts to reach a larger audience. The more the customers see you, the more they can convert later. Buffer has the Buffer Analyze that enables you to track the best performing content.
Buffer offers the benefit of flexibility by enabling you to consolidate all the social media posts in one place. It allows the brand supervisors to do batch post-approval. A person who is familiar with your brand should have the final say about your social media posts. Buffer supports high volume accounts and bulk posting across those accounts.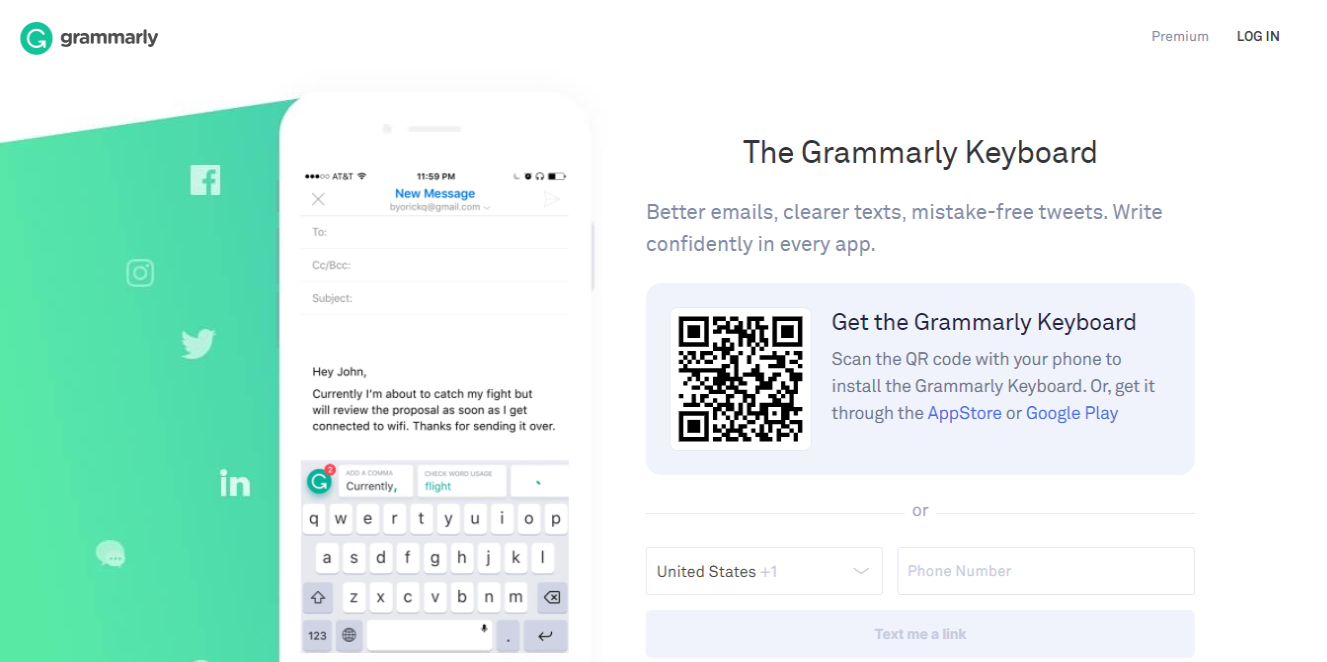 Grammarly Keyboard allows you to avoid grammatical errors on your marketing posts and emails. This app can be regarded as an "automate professional editor." It uses a special keyboard to automatically scan your document for grammatical errors and misspellings. It helps you to correct poor grammar and mistakes and therefore, you become a better content writer. Grammarly Keyboard can be used on any smartphone and it is free.
Many people spend a lot of time daily creating infographics, blog posts, social media posts. Conveying a message to your audience successfully is the ultimate goal for any business person wishing to promote their brand. The message becomes part of the businesses' marketing mix for small and large brands.
If you are starting a small business, you may have financial limitations and in most cases, you cannot hire editors. Why not download the Grammarly Keyboard app to check and fix punctuation errors and grammatical mistakes on your marketing content.
Grammarly Keyboard has an in-build synonym suggestion tool that can enable you to expand your vocabulary. The Grammarly premium app provides a vocabulary enhancement feature which, apart from pointing out mistakes, makes suggestions for better writing. Thus, you can create and publish more readable marketing content.

Google Analytics allows you to monitor and track your digital marketing results. You can know who is clicking on your posts, how long they are staying on your site, what they are most interested in, and their suggestions for improvements.
The Google Analytics mobile app lets you monitor and review all your website activities from your phone. You can track your business metrics from anywhere. The app offers detailed reporting and insights about how your website is performing and how your target audience is responding to your brand.
The Google Analytics app has an audience section that allows you to identify your customers in terms of their location, retention, demographics, and device technology. These metrics enable you to determine how effective your marketing efforts are. The app also has an acquisition section that shows how customers connect with you on your website.
You can know which channels yield the most traffic, whether organic, ads on social media or emails. It can allow you to compare the visitors who are coming via Instagram and those coming via Facebook. Additionally, Google Analytics can let you know what customers do when they visit your website and how long they stay. You can, therefore, understand the user experience and its impact on engagement and retention.
Later was originally referred to as Latergramme and it enables you to plan, schedule and publish marketing posts for Instagram. Instagram cannot allow someone to post content at a later time.
Later app is so-called because it overcomes this problem by allowing you to post the content later. This app also can manage and integrate many Instagram accounts. You can get images from Dropbox, Google, or the library.
Later also features an analytics dashboard with a variety of insights to facilitate social media accounts integration. It has an overview of how your account is performing, enabling you to view the number of followers, interactions, impressions, and growth rate percentage.
The audience analytics covers demographics, engagement, written language, and location. The app also offers a virtual breakdown of the performance of your hashtags, including the comments, impressions, and likes.
The Later's Collect Media feature lets you populate and save digital marketing content from other Instagram users so that you can share it later. You can use hashtags, URLs, and mentions to search for Instagram and also invite content creators to add value to your feed. If you want to post other people's content to your feed, get their permission to do so.

Hootsuite is a social media management tool that facilitates scheduling posts to Facebook, Twitter, LinkedIn, Youtube, and Instagram. It is a powerful tool for digital marketing planning. This app allows you to schedule messages across various social media platforms in advance.
Hence, you can create an impactful social media marketing strategy to promote your brand. The strategy captures specific times when your postings are mostly read and lets you attract more followers to read your content.
The unique analytics features of the Hootsuite app allows you to have an in-depth view of how your marketing strategy is performing. This tool tracks the clicks from your favorite social media platforms and delivers them in the form of charts that you can easily interpret. The app also provides monitoring and reporting tools that facilitate the creation of professional printable reports.
Hootsuite features a bookmark plug-in feature called Hootlet. This enables you to share content with your followers. When you find something worth sharing, you only need to click the Hootlet button.
Hootsuite app also provides for social media listening where you can easily notice what other people are saying about a brand as you focus on adding value to the conversation. You can track key terms and phrases across posts belonging to other users to determine whether your input could be beneficial.
Conclusion
The use of apps for digital marketing is diverse and unlimited. The above apps can allow you to gain brand recognition by using your smartphone. You can run your business while in or out of office in 2021.
Connect with your existing and potential customers in the digital space, such as Facebook, Twitter, and Instagram. Get to understand what they want and make decisions on how you can improve their experiences.
About the Author!
Arthur Evans is a professional freelance writer and proofreader from the UK working for an A-grade assignment writing service – AssignmentMasters. His job is to coordinate with students, understand their thesis and dissertation requirements and write and deliver premium-quality work within the deadline. Feel free to contact him via Twitter.