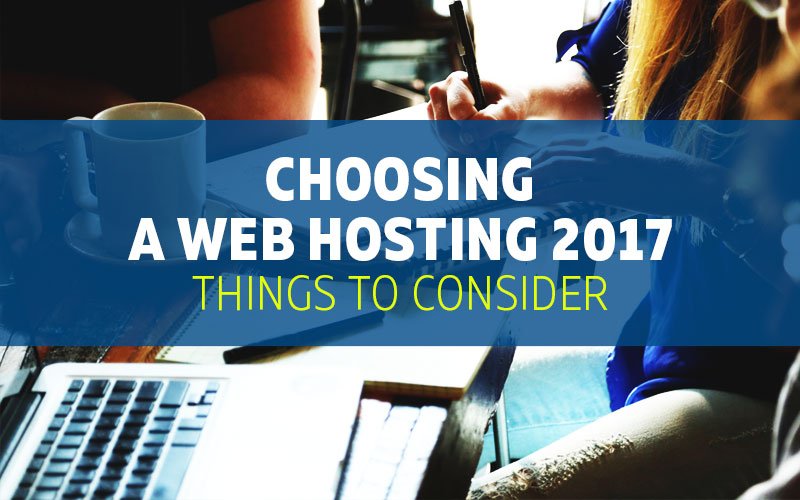 Choosing a Web Hosting for Your Brand Business 2017 – Things to Consider
The challenges of starting a new site or maintaining an existing one today are far different than they were a few years ago. Today, the internet is filled with websites fighting for the attention of audience. For a site, especially a new one, to be successful, the best user experience is a necessity.
Aside from user interface and the contents, the hosting service you use will also play an important role in determining just how good the user experience can be.
The shift in challenges faced by today's site owners also mean changes to the aspects to consider when choosing a service in 2017.
Here are the most important things to consider if you're shopping for a web hosting service today.
Speed and Performance
At the top of our list, we have server speed. Today's internet users have shorter attention span. Your site needs to load quickly in order to keep visitors happy. The golden number to aim for is 3 seconds; if your site doesn't load within 3 seconds, you're dealing with 70% chance of users moving on to the next site they find.
Performance is an important aspect to consider indeed. You can only optimize your site so much; the server hosting your site must be able to handle the load – the high amount of traffic your site will be getting as it grows – in order for the overall performance to be maintained. A fast server will also help you deliver the best user experience possible.
Scalability
Another important question to ask when choosing web hosting service is: how upgradable is the hosting service? You don't want to spend a lot of money on hosting services when starting a new site; the best way to go is keeping running costs at minimum. This means finding a good hosting service with maximum scalability.
Check the available upgrade options before deciding to sign up for an account. The easier you can upgrade to a more capable service package the better. For instance, you need to be able to move from shared hosting to a VPS account without having to abandon the previous account and sign up for a new one. With VPS service, you also need to be able to add more storage space, monthly data transfer limit and server resources on the fly.
Some hosting companies now offer temporary upgrades. When you suddenly experience a jump in traffic, you can purchase these temporary upgrades and keep your site performing optimally at all times.
Included Features
A lot of web hosting services now come with unlimited everything. While having unlimited storage and monthly bandwidth is a great thing, most of these unlimited offers come with strict terms and conditions. You need to take the time to understand them in order to find the best hosting service to use.
On the other hand, hosting services with limited resources offer straightforward options. You can easily compare service packages and settle for the one that suits your needs perfectly. A news site doesn't really need unlimited storage space; at the beginning, you may find it difficult to fill 1GB of web hosting space. Why pay more for the features you don't need?
Specific Features
The best way to find the best web hosting service to use is by first understanding your hosting needs. Do you need support for SSL security? Do you want to have ecommerce-features for the site? Are features like one-click install and cron jobs necessary for your site?
Different hosting types and plans may come with different sets of features. Some shared hosting plans, for example, don't support the use of private SSL certificate. VPS hosting, on the other hand, may not come with a control panel or automatic script installers.
There is no rule to follow when comparing these specific features. It's about finding the hosting plan that suits your needs best, so be sure to take the time to review those needs before you start your search.
Pricing and Policies
Of course, the best hosting plan won't be good enough if it's too expensive. Fortunately, it is very easy to find an affordable hosting service that suits even the most specific needs perfectly. Some cloud-based hosting services are even available for as little as £1 per month.
Another important thing to consider before you decide to sign up for an account is the policies that come with the account. Check for money back guarantee and always read the terms of service carefully before agreeing to them. It is not a fun task to tackle, but it will save you a lot of trouble in the future.
Review these aspects when choosing the next hosting plan to get and you will be able to find a good one without a problem. With a suitable hosting account in hand, setting up a site will be a walk in the park.