Beginners Guide: 5 Facebook Tips for Product Branding
When we talk about branding through social media, Facebook will never run out we can talk about it. A lots of brand, new or old that has been tried Facebook as a place to promote its brand. Call it a Coca-Cola, Starbucks, Pizza Hut, Mc. Donalds, and Subway, where those brand are well known in advance in the oflline world, but not infrequently also a brand new start up on Facebook.
In this article I will share the 5 tips that you can apply to attracting the attention of customer that you have never got it in the offline world through social media – Facebook.
Tips #1: Make a Creative Slogan

Make the slogan is the first thing in the conduct of marketing strategy, in marketing a product the first time we will easily attract the attention of customers by creating a slogan, as we all know the famous brand such as Coca-Cola with its slogan "Things go better coke". You can also apply this strategy in your Facebook page, you do not need a slogan with complicated words, see like Crumpler did, they just making a picture "I love with the crumpler logo" the massage was delivered to the consumer. It's easy, very simple and exicting too, right? 🙂
Take advantage of exiting cover on your Facebook profile logo placement in your store, as the Shop For Bags did, it's quite interesting, with an example of product and the campaign logo can be enough to attract the attention of customers, who see it.
Tips #2: Integrated Unique Promotion into Your Facebok
Here, I will take the example of Best Buy did on Facebook, as you can be seen in examples of Best Buy profile, the unique promotion is one of the marketing strategy to attract customers.
Step 1. Promote rewards for member
In this case, the Best Buy promote the awarding points for their members, this strategy is to draw the attention of customers. Could also have one other way that is almost similar as possible to do that simpler than the Best Buy to, is by giving a discount price with every purchase of 3 or 5 items that also include promotion.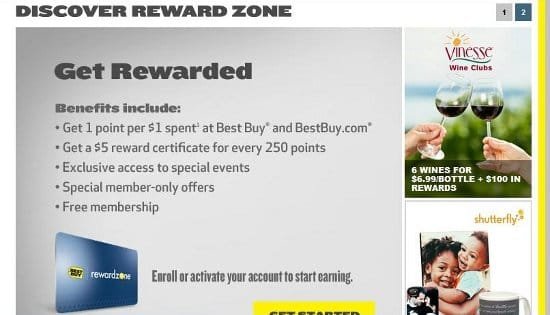 Step 2. Promote coupon for show/events
As well as offers promotional points for the member, Best Buy also promote their goods by giving a discount coupon for the purchase of a band conser tickets, it can also be replaced with a more simple way is by giving tickets to a band show for every purchase of certain amount. This ies very simple and you do not have to work together with the event organizer who organized the event for the provision of discount coupons, you only buy one or two tickets and gave them to customers who have reached a certain purchase.

Tips #3: Use Album Photo for Your Products
The most important thing is to introduce the brand in Facebook is the variety of products that can attract customers to visit your Facebook profile. The one way is by adding photos of your products in Facebook album folder. There are two steps that you can use for branding with products photo on Facebook.
Step 1. Give interesting picture product in every album to attract customers
You must professional in this case, it's mean your image must have good quality professional looks.
As we can see from the examples that you can take pictures in the folder is a good quality capture not only the origin of the background wall of the house, this photograph to be carefully with good lighting. You can hire a photographer to take picture of your products, this is the beginning of your capital in the bussiness on Facebook. As a second consideration is you do not have to hire a profesional model to use your products, you can ask for help a friend to take his photo, it can also help you to make your products more attractive.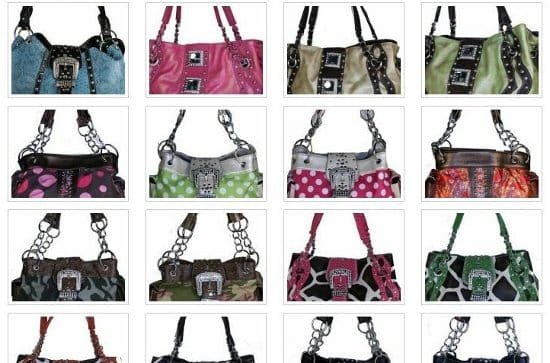 Step 2. Give title in each albums (title, month, years, or sold out)
It's very important. You can do by giving the name of items in each folder, or the name of the folder by month promotional items, and do not forget to distinguish the goods are already sold out in separate folder this will allow you to provide information for your customers.
With placing folder sold out in our photo album there are some advantages that you can take such as:
Showed to customers that we can be trusted, there is evidence of our goods are sold.
Smoothed over our merchandise on Facebook, so customers by looking away it, already know that the goods are sold out, so they don't need to ask again.

Tips #4: Participate in One to One, One to Many or Many to Many Conversations
So it is a part of conversation on Facebook, get into an environment of fellow enterprenuers online shop or particular community associated with the products you offer. By participating, there are some advantages which can be obtained as follows:
Increase friends become fans.
By actively following a conversation with one or more people in a community than we can indirectly add to our frendship, maybe at first we just talk normal but will not rule out our new friends will become fans of our new products, has not it? 🙂
Have more bussines relationship.
Fellow bussinesmen usually prefer a kind of got together and formed a community, this is because a lot of science that they will get to talk with the seller is longer. Be friendly and you will get the experience.
Step 1. Join community
By participating in a particular community environment, you will easily offer products suitable for the customers. Let's say you offer a traveling bag, then you should follow the community of nature lovers who need your traveling bag. Besides, you will able to market your products according to your target market.
Step 2. Like page similar with your page
Give a like page is usually used another online shop to promote its products as you do, but likers page can also be used to establish good relationship with fellow online store owner shop, did not rule out the wall page likers page belongs to another online store we can use to promote to our products.
Tips #5: Build Communication with Customers
Facebook can help us to communicate with customers in real time. Then it implies that the customers will actualy help us in promoting the products we offer, when it occurs indicates that we have managed to build customers loyalty. As a way of communicating with customers is as follows.
Step 1. Monitoring custommer comments
At least a minimum period of 1 day immediately answered comments from your customers, do not wait too long, make you customers feel cared for their questions.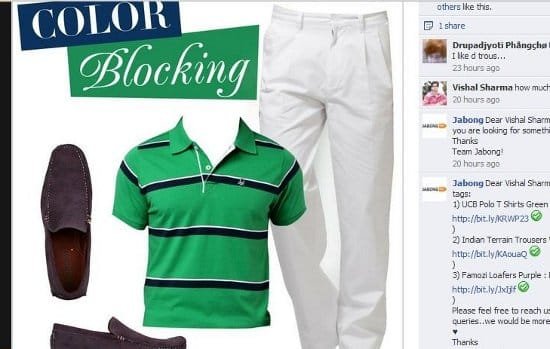 Step 2. Encourage customers to share experiences on Facebook
After a consumer ask to buy you products, invite them to share experience in using of your products. You can do this by ask directly with through tag or status in the customer Facebook profile, who ask what the thought about your products, in case your customers opinion from titled about the service or product finish is better to avoid contention with customers on Facebook as this will damage the reputation of your brand.
As cumple doing, where he/she showed likers on Facebook already indirectly attract the reaction of customers loyal to comment and share experiences.

Step 3. Do the survey on Facebook
Ask your customers how their opinions through polls or surveys. In this survey, is not just asking opinions about a products alone but you could ask about their hobbies or their favored.
As in the summer, as a seller of clothing you can ask what they like to wear slippers or sandals wedges clamp?
Conclution
As a begginer in doing branding on Facebook, we should start with a simple and to convey the massages that we are not too complicated. In capturing the customers should we begin to actively online in Facebook, practice will make perfect. The longer you try to explore communication through the procces of branding Facebook, you will progress.
How about you? If you have any suggestions besides the five tips above, please share with us in the comment below.
– Written by Ratih –