Creating a promotional video is becoming increasingly important in marketing. Around 100 million hours of video are watched on Facebook every day worldwide, and Mark Zuckerberg has already announced that videos will dominate the platform next year. It is not surprising that the "Video is King!" is becoming increasingly popular in marketing.
Therefore, entrepreneurs who have not yet benefited from the trend should now think about creating their own promotional videos and think about using Boosted video maker app or other similar video editors. I thoroughly tested the three leading video editors FlexClip, InVideo, and Animoto, to see what can be done with a video editor.
[lasso ref="videvo" id="33205″ link_id="25363″]
Promotional Video Benefits
Let's start with the benefits of promotional videos:
Videos can convey more information than pictures.
Videos are more emotional than pictures.
Videos are more engaging than pictures.
Videos are perfect for storytelling.
Videos are perfect for retargeting (e.g., people who watched the video for at least 5 seconds)
The Cost of a Promotional Video
Why don't more entrepreneurs use videos when there are so many benefits? The problem is the cost. The creation of video content is anything but cheap. You can save money by writing the video script yourself, but you still have to pay the cameraman, equipment, and post-processing. A short promotional video that is professionally produced can easily cost a few thousand dollars.
With an agency, it gets even more expensive. This is not a problem for medium-sized companies and corporations, but solo entrepreneurs and start-ups will struggle with such a sum. Therefore, they are often limited to advertisements with graphics, since these are easier to produce.
Optimization with the A/B Test
Social media platforms such as Facebook and Instagram have a great advantage that you can precisely test how effective your advertising videos are. A small company cannot afford to spend thousands of dollars on a promotional video, realizing that the target group is not getting there.
I speak from experience. For my first company, I produced a professional promotional video that no sow was interested in. A better strategy is to produce a lot of cheap promotional videos and test which videos are the most popular.
With a video editor, that's not a problem because you can scale the production of promotional videos cheaply. Not only can you create several promotional videos for each product, but you can also create suitable promotional videos for the individual target groups. With A/B tests, you can continuously optimize the videos (length, format, text, music, video clips, CTA, etc.).
Three Video Editors Tested
I tested the three leading video editors to find out which video editor is best in terms of operation and functionality.

FlexClip is the most famous video editor. You can either create your own projects with the editor or use hundreds of pre-made templates. In addition to your own videos, more than 1 million stock videos are available. Thanks to partnerships with Storyblocks, the quality of the videos is very high.
With FlexClip's video editor, you can create a promotional video in four steps:
Step 1: First of all, I chose a video template. You can filter the templates by industry. There are also additional templates for current holidays and events. You can be inspired by the templates if you don't have an idea for a promotional video yet. The format options are horizontal, vertical, and square for the different advertising platforms.
Tip: The square format is best for Facebook because it takes up the most space in the feed.
Step 2: After that, I inserted the text. There are many different styles for the text. The size and position of the text field can be changed easily using drag-and-drop. I also created an outro because it offers a good opportunity to insert the logo and the call-to-action.
Tip: Don't use too much text in the promotional video.
Tip: Every promotional video should end with a clear call-to-action.
Step 3: In the last step, you can choose a suitable song from the library. You can filter the songs by genre, mood, tempo, and instrument.
Tip: The choice of music is extremely important to convey the right mood in the advertising video.
Step 4: When everything is done, just download the video project to the computer for using it anywhere.
My Opinions: I really like the interface design of the video editor, and it only took me a few minutes to create the video. It makes sense to create several advertising videos for a campaign in order to analyze the performance of the individual advertising videos with A / B tests. This allows you to concentrate on the top performers and make optimal use of the advertising budget.
The stock videos can also be mixed with your own videos and photos to increase the authenticity of the advertising video.
As you can see, FlexClip has three plans:
Free: $0
Basic: $4.99 per month (billed annually) or $8.99 billed monthly
Plus: $7.99 per month (billed annually) $15.99 billed monthly
The free version allows you to download unlimited videos but with the limitations for video length (maximum 1 minute without a watermark) and quality (480p). By choosing a paid plan, you will get more premium features such as longer videos, higher definition, and unlimited use of stock videos, etc.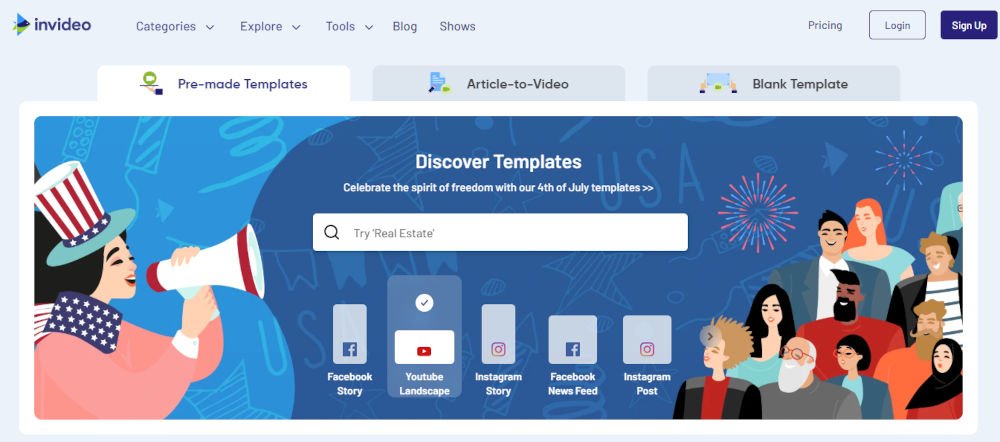 Another popular video tool is InVideo. It is a start-up from San Francisco with more than 100,000 customers in 150 countries.
FlexClip vs. InVideo
FlexClip and InVideo have comparable functionality. FlexClip's video editor is a bit more modern and easy to use, and there is a wider selection of stock videos. That is why FlexClip is slightly ahead of me. However, InVideo is almost as good and much powerful, especially with the possibility to output as long as 15-minute videos.
Both FlexClip and InVideo are reminiscent of the Canva graphics program. Recently it has also been possible to edit videos with Canva, but the functionality is severely limited. It remains to be seen whether Canva will develop a serious video editor in the future.
With InVideo's pre-made templates, your job will be as easy as possible.
Step 1: Created an account and log into Invideo. You can either pick a template or make a video from scratch.
Step 2: Add your own video and photo materials that you want to use in your promotional video. Alternatively, you can choose videos, images, and sounds available in InVideo's vast library.
Step 3: Customize your video by adding text, changing fonts, adjusting colors, or modifying it in any which way you want.
Step 4: Once you have finished the video editing, export the video, download it, and share it via your social media channels.
InVideo has very clear pricing. There are only two plans:
Business: $ 10 monthly (billed annually) or $ 20 billed monthly
Unlimited: $ 30 monthly (billed annually) or $ 60 billed monthly
What is striking about the pricing is that the annual amount only costs half and is therefore very cheap. The business plan is limited to the use of 300 premium photos and videos per month. In addition, the number of HD videos is limited to 60 per month. In contrast, the unlimited plan, as the name suggests, is unlimited.

Another online video tool is Animoto. The first thing I noticed during the test was that the functionality of the Animoto is severely limited. Animoto has a free version and two more expensive plans than FlexClip and InVideo, which are named Professional and Business.
All plans include unlimited video creations and downloads. Animoto has a comprehensive library with 1,000,000 videos, images, and audio files. It could be interesting for users who want to create a large number of advertising videos and only need a few functions.
How to create promotional videos in 3 steps with Animoto?
Step 1: There is a wide range of video templates available in Animoto. You can select a favorite template or start from scratch with one click. Then drag and drop your materials right into your project.
Step 2: In the Animoto editor, you can quickly adjust colors, fonts, music, and more to edit the video to match your own style or brand without difficulty.
Step 3: Once finished, you will be able to download and share your video in moments.
Animoto has three plans:
Free: $ 0
Professional: $ 33 monthly (billed annually) or $ 65 billed monthly
Business: $ 49 monthly (billed annually) or $ 94 billed monthly
Tips When Creating Promotional Videos
Now that you've got this list of the top three video editors to try out when creating promotional videos, it's important also to touch on the hows so you can use the app efficiently. How can you create excellent and effective promotional videos? What are the best tips to apply?
#1. Start by Identifying Your Goal
Before you even go head-on with creating promotional videos, it's very important to start with your goal. Identify what it is you wish to achieve by coming up with these promotional videos.
That way, each time that you create similar promotional media, you can ask yourself, "Does this video identify with the goal we wish to achieve?"
To give you a head start in this process, here are the top three main reasons why businesses come up with promotional videos:
Educate customers;
Create brand awareness;
Increase customer engagement.
#2. Think Like a Teaser
Thinking like a teaser means creating videos that are short but catchy. Go back and imagine some good movie trailers you have seen recently.
How do you feel after? This is the same feeling that you should emulate in your promotional videos by coming up with one. Think catchy music, prominent headings, and clear but enticing announcements.
#3. Proceed with Your Direction
The direction of your promotional videos goes hand-in-hand with that of your business' goals. This refers to that more refined approach, with the intention of setting your video's overall tone.
Here's a list of possible direction ideas you can choose to go for:
Informative, whereby you'll educate your audience about something specific, such as the new use of your products and services. This would usually be in the form of a tutorial video.
Introductory, which means telling your customers about who you are as a business, your vision, mission, and the like.
Entertainment, wherein you're creating delight and joy to your customers and audience, usually in the form of humor, or a storyline.
My conclusion
With the video tools presented, the production costs drop enormously, which means that even small business owners and start-ups with a small budget are able to create advertising videos. This allows them to benefit from the trend towards video.
A video editor is a good introduction to video marketing since the costs are low, and the videos can be adapted at any time without problems. If you have developed a better understanding of the Facebook ad manager, video editing, and the target group, you are also better prepared to have your own videos produced.
In my opinion, FlexClip and Invideo would be the two of the best and easiest video editors. Both programs impress with their intuitive operation and a large selection of high-quality video templates. I was able to create compelling promotional videos in just a few minutes using both tools.
About the Author!
Bray Jon is a technology geek who likes all types of new technology and writes articles about how-to, tips & tricks. His greatest pleasure is to share creative ideas to inspire others.