Pros and Cons of Logo Design Contests
Recently the Winter Olympic Games were closed. I am not a big fan of watching or practicing sport (yes, shame on me!!!) but I am very impressed by the competition spirit. No matter the country, religion or human pigment, the best must win the competition. The ones that competed fully deserve our consideration so congratulations to all of them!
In this context, I asked myself- is there any competition between logo designers very similar to the Olympic Games? I deeply searched and I didn't find any similar competition – if it ever existed, by sure we would have presented it to you! Instead, the logo designers may compete in various logo contests. It's true, they won't receive a gold medal or the worldwide recognition of the fans, but a good logo designer may gain exposure amongst community and money. In conclusion, we don't have Olympic Games, but fortunately, the competitions exist and you may be a "gold-awarded" logo designer.
Logo design contests are a very controversial subject and the feelings of the community are mixed. Some consider these being very important and positive for the designers while others disregard these and are 100% against them. The truth is that these exist and many designers take them into account. Much more, a very small number of the logo designers received much money and recognition from competing, therefore as long as some people done that, why should not you give a try?
In order to make a clearer opinion about, here we collected the pros and cons of competing in logo contests. We aren't the adepts of these tournaments, but definitely, we aren't against them. The better approach for each of you is to analyse very objectively the below ideas and finally to make a decision by your own.

Pros:
#1. The competition itself
Competing with other fellows is the perfect environment for getting motivated to improve the skills. Competition, as long as fair play is a mandatory condition, is extremely beneficial for any designer. The competitors may see how other designers work, how efficient and creative are others and maybe get feedback for their works. A logo tournament may be considered a method of learning by doing and it's a great possibility of sharpening the skills. Much more, by competing, the designer should communicate with the clients and learning how to deal with them is a big advantage.
#2. The possibility of being rewarded
The logo contests are a source of income for some designers. The competitions aren't in vain, just to design a logo and nothing more. There are clients very interested in having a good logo and they are ready to give a reasonable amount of money. It's true that there are tons of amazing logo designers able to create stunning works that compete with you, but it shouldn't be a reason to give up! In conclusion, the customers search for high quality and are ready to recompense for it!
#3. Exposure and becoming well known
It's inevitable that being very active in various competitions not to be observed by other designers. In addition to hard work, gaining some competitions is also inevitable. Under these circumstances, the respective designer becomes influential into the community and step by step is created a personal brand, a designer that "fought and gained many design wars".
#4. Creating a heavy visited portfolio
The majority of the logo tournaments allow the designers to create a portfolio. Usually, these are highly visited and a wise designer will know how to profit from. Exposing some amazing works helps in making more prominent the personal brand and there are many other advantages.
#5. Getting in touch with new clients
An impressive portfolio and good participations in various competitions may attract other clients needing some design services. Usually, the designers may be contacted in private and it means that a good designer, no matter he didn't gain any competition, may be hired by other customers. I think that it's a pretty important advantage, isn't it?
#6. Making new friends
Making new friends is a great thing. The designers are spending much time in their workspace and sometimes neglect their private life. It's a great mistake and we strongly recommend not doing it.
A logo competition may be a source of getting new clients! Yeah, as I previously said, in these competitions are participating many designers and maybe some of them are living nearby you. Get in touch with them; perhaps a friendship for the entire life may be created!
Cons:
#1. Time spent useless
The logo design contests are in fact very cruel competitions: tens or even thousands of logo designers upload their works and in the end, just a single one receives the payment for the logo. It's crystal clear that gaining a contest is extremely difficult…
Altogether, in each contest are uploaded many quality logos and these creations require much time. In conclusion, competing in these tournaments is a waste of time even if from time to time is gained a reward.
#2. A very low chance of making a solid income
The chances of winning a competition and implicitly, the financial reward are pretty low. Some of the best designers must compete in tens of tournaments to win some of them. Practically, no matter how talented a designer is, he/she doesn't have any idea about how much money will be gained into a month. This unpredictability is very risky and many designers will try other means of making money.
#3. Frustration and losing hope
Competing without any success is affecting the morale of the designers. It's impossible to create good logos again and again, compete and lose without being affected. Much more, being on tight budget has the potential to amplify the frustration and conducts to losing the confidence in the own power. As long as these consequences don't have immediate effects, the designers will ignore them, but on long term perspective, the negative effects will be hard to eradicate.
Personally, I am very irritated by any answer that starts with "depends on" (I wrote a lot about this situation!!!). When the answer begins with "depends on" I consider that the author doesn't have enough personality to express his view. Altogether, you and I must accept that everything in life is the result of personal perception and what is black for you, may be white for me! The same idea applies to logo design contests- you may appreciate these while I will blame them forever. I participated into several contests, but I didn't win any of them. Thinking from the financial perspective, it was a waste of time for me; from the self-improving point of view, I learned a lot and I don't have any regrets.
It will be great to have shared with us your opinion about. What do you think, are these competitions useful for a designer? If you want to give a try, I recommend the next logo contests websites, these are the best!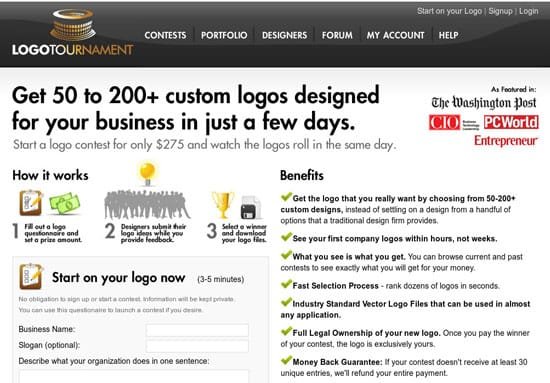 – Written by Daniel –