Packaging should do more for a product than just house it. A well-designed package makes a customer want to know more about what is inside. The wrapper on a product is also a chance for a brand to communicate its purpose and values. Package colors, materials, and logo placement can all play an important role in customers continuing to be customers.
Ecommerce brands will want to pay particular attention as to how their products arrive at the customer. Online customers do not have the advantage of handling a product before purchasing, so a well-thought-out box or container can send a valuable message regarding how much your brand cares about its image. Brands should never underestimate the need for a WOW factor upon delivery.
Everything from doorknobs to shoelaces has trends that appear each year. Package material is no exception. Labels, bottles, boxes, and shipping containers all can be upgraded to include a current trend. We will now take a look at 15 of the current packaging trends for 2020.
Trends in the Physical Package
Shapes, textures, materials, and transparency are all playing a major role in current package motifs. From cutouts on boxes to unconventional container shapes, the physical package containing a product is no longer limited to a square box or round bottle. Thinking outside the box has never been a more applicable philosophy.
#1. Telling the story of the brand
Unboxing is a big thing these days. Check YouTube, there are thousands of unboxing videos, from dollar store hauls to Birkin bags. What makes your brand stand out from other brands in the same industry? For many companies, the container tells the customer something about what the company believes, their motivation, and their values.
You might want to take a look at your current boxing material. Does it say what you want it to say? Does it tell a story about your brand to your customer? Will the customer know more about the brand by just seeing the box?
#2. Retro is merging with futurism

This container trend might leave some in marketing scratching their heads, but it is truly a hot trend. From steampunk-inspired logos to bright neon rainbows, retro-meets-future is in full swing. Even though your current logo may be well-recognized and not something you want to change dramatically, a little neon pop or futuristic element here or there could help bring in some new business.
If your customer is primarily based online, a little color infusion could help to spark some new interest. The goal with a trend is to utilize it to your advantage, not have it take over your brand. A little bit of a trend goes a long way.
#3. Nature-inspired patterns
Probably nothing has taken over container materials like nature themes. Big in the business for some time now, many companies, especially e-brands like using nature-themed container patterns to send a message about their eco-friendliness. It seems to work for the brands that use this type of theme.
Again, bringing a nature pattern into your current marketing strategy does not have to be an all or nothing endeavor. Maybe a rethink about the boxes for just a couple of your more natural products is all that is needed to stay up-to-date in this area. Particularly if your company has just developed a new eco-friendly product line, a nature-themed pattern on the container could easily convey that message.
#4. Metamorphosis and change
From how a company transformed from one industry to another to how a product can help a customer's life function better, metamorphosis is an up and coming trend to be considered by all brands. If your brand has recently undergone a major revamp, it could probably be time to also consider how that change could best be explained on a surface level, through labels, wrappers, and containers. Was the change as magnificent as a cocoon into a butterfly or more subtle like a leaf changing colors from summer to fall?
Whatever change took place for your brand, consider bringing that change to the forefront: box images, logos, and labels are all perfect opportunities to shed light on new energy.
#5. Textured boxes
Embossed lettering, cutouts, and flocking on boxes can instantly draw in a customer to want to know more about a product. Such elements even play well online. Embossing labels and adding other texture elements could add an impressive touch to an otherwise utilitarian item. Such details can also up the anticipation level on the part of the customer.
If it is time to consider a new container for your established brand then embossing and die-cutting might be great ways to stay on trend and be newly noticed in a competitive market. Customers greatly appreciate a little extra detail in a nice box. Some customers even collect specialty boxes.
#6. Blurred images or color splotches
Gradient color schemes can work well in design elements to convey mood or invoke sensory responses. Blurred images as a background to logos and text help to modernize the feel of a box, bottle, or carton without taking away from the recognizability of an existing brand itself.
Especially popular on cans, blurred images can give the feeling of cooler temperature, such as icy cold drinks or items that need refrigeration. If your brand caters to a market looking to feel refreshed or chilled then blurred imagery could add that ambiance.
#7. Geometric patterns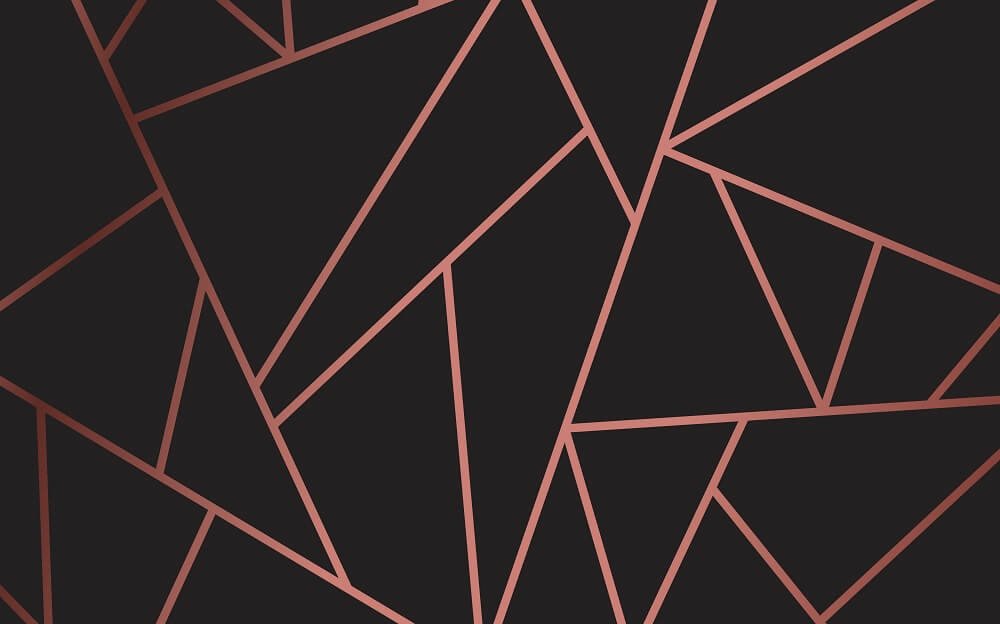 Possibly nothing says clean and neat like a stripe or other geometric shape. Because of their easy recognition (we all learn basic shapes in elementary school) geometric patterns in vibrant colors can have a big wow factor. Circles, stars, and even squares can quickly catch a consumer's eye.
Black and white boxes with a strong geometric-shaped image could stand out from all the maximalist themes that have become another recent trend. Ecommerce brands, especially, can often benefit from leading with a whisper rather than a scream when it comes to containers.
#8. Maximalist vs. minimalist
Each brand ultimately has to decide which type of marketing best serves its story, its values, and its customers. Many brands are returning to the "more is more" idea of design. Think Victorian-inspired images or logos with lots of flourishes and swirls. Add in deep jewel-toned color themes and maximalism is the result.
Again, not every brand is served well by such an approach. However, if your brand is trying to reach a more traditional consumer or offers a more traditional product line then the ornate approach might be worth considering. Carefully planned flourishes and well-thought-out color schemes could help establish a feeling of tradition and stability.
#9. Neatly organized layouts
If you have a product that is focused around organizational items or maintaining a clean space, a clean container label that is more minimal might be just what your brand needs. Logos that are crisp and easy to read or text that is simple and classic all play into the idea of a neat, well-organized layout.
As stated earlier, not every product benefits from embellishments and ornate images. If your brand promotes a more masculine image, for instance, the crisper, "less is more" trend might be a better fit.
#10. New shapes for packages
Just because your brand might be dish soap or mouthwash doesn't mean you cannot have a little fun with the shape of the bottle or box. Maybe your liquid soap product could be offered in a straight-sided bottle instead of a curved one. Maybe your mouthwash brand could be held in a square rather than a round jar.
Other trends include shipping prepackaged food items in bags shaped like people or dog treats in tins shaped like stylized bones. The sky's the limit when it comes to forms in containers. Creativity is king with this trend.
#11. Transparent containers
Ecommerce brands often rely on color to help their products be noticed by new customers. When items are offered in a variety of colors a transparent package can help sell that aspect. When customers can quickly see the color they like, they are more likely to purchase that brand over another with more limited options.
Clear plastic containers can also enhance scent and cleaning products since most products, even traditional ones, have some color to them. Who doesn't like to go down an aisle of brightly colored merchandise and be able to zero in on your favorite?
#12. Eco-awareness
From the material used to make the product to the box or bottle it is shipped in, eco-awareness is a trend that it is probably here to stay. We all want a better planet so being aware of how a package is made could be just as important to a consumer as what is in the product they are buying. Stating that recycled material is used in a package or container has been common on boxes and wrappers for several years and is not likely to stop.
Using sustainable materials such as bamboo make for a lovely presentation perfect for your brand's logo and color. Recycled paper used in the box you ship in would also let customers know that you value every part of their dollar.
Color Trends
Perhaps one of the easiest ways to bring a trend into an existing brand is through the novel use of an existing color scheme. Emphasizing one color or creating gradients out of current pallets is not overly expensive but could result in a significant increase in eyes on the product. Brands should never underestimate the power of subtle changes. Customers do notice!
#13. Natural, earthy pastel schemes

A popular trend for a few years has been earthy and natural color pallets. The more recent trend-within-a-trend is the use of earth-inspired pastels such as florals and sky-tones. Brands that feature eco-conscious colors in their package elements are also keen on using earth colors for everything from the logo design to label text.
Soft daisy yellow or rose pink, wispy blue or light greens are all excellent choices if your brand is ready to bring this trend into its products. Soft pastels evoke feelings of freshness and safety, perfect for almost any product.
#14. Monochrome color pallets
Vibrant colors, neon colors, neutrals, and everything in between can be used in a monochrome color scheme. The outside of a box can be a different shade of the same color family from the bottle holding the product.
This is a great trend to pair with gradient and blurred imagery. The trendy blue family lends itself especially well to the monochrome color themes. Any color can be used in a monochromatic motif and could help to present a clean, minimal brand image.
#15. Metallic colors
Metallic color options are trending loud and large right now when it comes to package themes. Especially hot are holographic metallics on dark or black backgrounds. Also, virtually any color can be metallised, so brands are no longer limited to silver and gold. Copper, metallic blues, reds, and greens are very popular.
One of the biggest advantages in the use of metallics is how well they pair with embossing or texturing on boxes, cans, and bottles. Any logo design could be greatly enhanced by the addition of metallic colors. Talk about a wow factor, adopting metallic colors on any new package materials could be the pop that gets your brand noticed.
Incorporating Trends
So how can your brand incorporate trending package elements into existing containers?
One way might be to change one container into a novel shape, say moving from a straight-sided bottle to a curved bottle. Another option might involve a new application of an existing color pallet. Choose the dominant hue and have a monochromatic or metallic box made for one product line that highlights that color. Also, logos can always be embossed onto current packages to add a trendy textured motif.
Whatever direction your brand chooses to go with the trends of 2020, bear in mind that small risks often reap big rewards.
About the Author!
Mark Palmer is a small business expert and has a passion for helping entrepreneurs make the most out of their company. As a freelance writer, Mark hopes to influence others so they can have a positive business experience.