Facebook Fan Page: Branding Tips, Design Tutorials and Galleries
With more than 500 million active users, have an account on Facebook and create a fan pages is a good way to promote your busines, your sites, or anything else you do in the online world. These gains have been optimized by many companies that later became an integral part of their branding strategy and promotional campaigns.
In this post, I'll give you a useful list about branding tips, tutorials of how to customize and site galleries for facebook fan page development that might will help you to create a fan pages with large, engaged, followings.
How to and Costumizing
Creating a Custom Facebook Page


This article explains how to add custom tabs to your Facebook page to make it do more. Here we explain how we built a carousel, navigation tabs, forms, etc on the Webdigi Facebook fan page.
How to Design a Kick-Ass Facebook Fanpage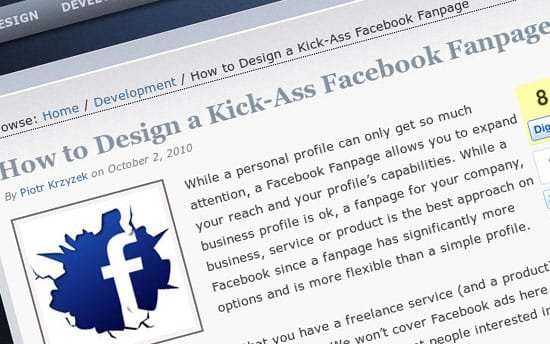 For this tutorial we'll assume that you have a freelance service (and a product) which you want to advertise on Facebook. We won't cover Facebook ads here, only the design and structure of a fanpage which will get people interested in your product and services.
How to: Set up a Winning Facebook Fan Page


This post is a beginner's guide to setting up and getting the most out of a Page on Facebook for your business
Customize Your Facebook Fan Page With A Welcome Tab

In this article I am going to show you how to customize your Facebook page with a Welcome tab. I'll walk you through the steps you need to take to get the tab on your page, as well as cite examples of how can you use this utility to your benefit.
How to: Build a Facebook Landing Page for Your Business

You've probably seen custom Fan Pages like those of Best Buy and Victoria's Secret. When you land there, you start on what is essentially a mini website within Facebook, instead of the Page's wall or feed.
These are often used to promote deals, call attention to new products, or simply welcome visitors with an attractive branded splash page. Anyone with a Fan Page can create one, but it takes a little effort. Here's how.
Tips for Branding and Marketing
How to Use Facebook for Business and Marketing

Let's just take a look at the potential of Facebook for business for a moment here and review the various options business owners have in order to be effective with Facebook business marketing.
5 Elements of a Sucessful Facebook Fan Page


What elements help fan pages build up large followings and what can brands do to emulate the success of others? I've put together a list of specific elements that I believe have helped create fan pages with large, engaged, followings.
How to Build Engaging One-of-Kind Facebook Fan Pages

There are great tools and tips available that will help you create an outstanding page for your brand without an immense amount of time or capital invested. I've been working to improve our own Go2web20 fan page and I have some tips from my experience that I'm more than happy to share.
5 Tips for Optimizing Your Brand's Facebook Presence


Here are five tips to optimize your activities on Facebook, including the right way to create profile and thumbnail graphics, how to show different content to Fans and non-Fans, creating DIY vanity urls, and how managing what and when you post can lead to greater success.
10 Steps To Create The Ultimate Facebook Fan Page for Your Brand
Facebook is now the 2nd most visited site in the world after Google and time spent on Facebook is higher than on any other site in most countries. It is clear that Facebook is an important component of any social media marketing plan, if not the most important.
Here are the 10 steps you should follow for the creation of the best Facebook Page for your brand:
Site Galleries
Facebook Showcase

Facebook Designs
Custom Facebook Page

FB Folio
Facebook Platform Showcase

And Finally
Building a good, solid Facebook page may look easy and it is the best Facebook pages that excel at making it look so easy, however, maintaing an online community is not at all easy. Just like any community, it has needs and thoughts and opinions and as administrators of a Facebook page we are responsible for keeping its interest and shall I even dare say turning the members of your community to patriots of your brand.

by Ayelet Noff