You're not alone if you've decided that developing a mobile app is the best solution for your brand or business. For all types of organizations aiming to engage their clients and expand their market share, mobile applications have become an important business channel.
While the Indian app developers now have the option of building for iOS, Android, the Universal Windows Platform (UWP), or a platform-agnostic progressive web app (PWA), the most popular comparison in India is iOS vs Android app development. So, how do you decide which platform to start with while developing your mobile app?
Unlike in the past, when there were a variety of platforms to choose from, iOS and Android are currently the only platforms worth considering.
The majority of users use smartphones that run on either one of these operating systems. Their popularity is so immense that when you combine iOS and Android, they account for nearly all of the mobile market.
In such a scenario, it's safe to say that businesses must only consider Android or iOS as their target platform while hiring app development companies in India to build a mobile app.
However, making the right decision is not an easy task. Apart from the percentage of your target audience using a specific mobile OS you must also consider several other factors such as development cost, scope, scalability, etc.
Based on these factors, you can lay out the advantages and disadvantages of iOS and Android app development. This will make it easier to enter the right app market and skyrocket your business revenue by targeting your most potential customers.
To help you along the journey, we have shared a few tips that'll make it easier to analyze your business objectives and choose the right platform accordingly.
Why does it make sense to create for one platform first?
Before proceeding further, let's first understand why it makes sense to launch a mobile app for a single platform. Building for one platform initially has the obvious benefit of requiring only one development team.
Let's imagine you decide to create an iOS application based on the preceding estimate that Android development is around 30% more expensive than iOS development. And, since the budget is your primary constraint, you choose iOS as the target platform for your mobile application.
Now, the benefit of following this approach is that you only need to employ one development team that knows how to create a native iOS app. You won't have to pay development charges to two separate teams and can get your app developed at an affordable price.
Apart from cost-effectiveness, several other factors can help you decide between Android and iOS while building a mobile application.
For instance, the time to develop an iOS application is comparatively less than Android app development. As per several studies, iOS programming necessitates at least 40% less code than Android development.
This reduces the amount of code that needs to be read, debugged, and maintained. Everything from testing schedules and costs to upgrading and maintenance costs will be affected as you develop your app.
App developers can test the idea with a portion of the audience if they build for just one platform first. Also, app development companies can then invest in developing an app on the second platform if the first one works as expected. If not, compared to designing an app for both platforms at the same time, you will have saved a lot of money.
Building for one app means you only have to spend your marketing money on one subset of consumers, as most apps will debut with no users.
If in-app ads are the primary acquisition channel, for example, developing an app on iOS means you just have to spend money on ads that target iOS users. This allows you to keep costs under control and your marketing budget in the back.
Another advantage of starting with one platform is that it allows you to focus on the app's functionality. You can experiment with different features and add or remove them until you achieve a stable condition.
It is far less expensive to do this for just one platform rather than two at the same time. Finally, you may discover that your target audience has a strong preference for one platform over another.
Dote Shopping, for example, discovered through market research that its target demographic was much more likely to own an Apple device, thus releasing an iOS app made sense. Dote Shopping has generated over $15 million in the last five years and has yet to see the need to produce an Android version.
Prior to deciding on a platform, make a list of your product's objectives. You should perform a third-platform adequate study to determine your product goals before deciding which OS (iOS or Android) to develop for initially.
This ensures that your app has a user-centered vision and that you are trying to address the needs of your target clients.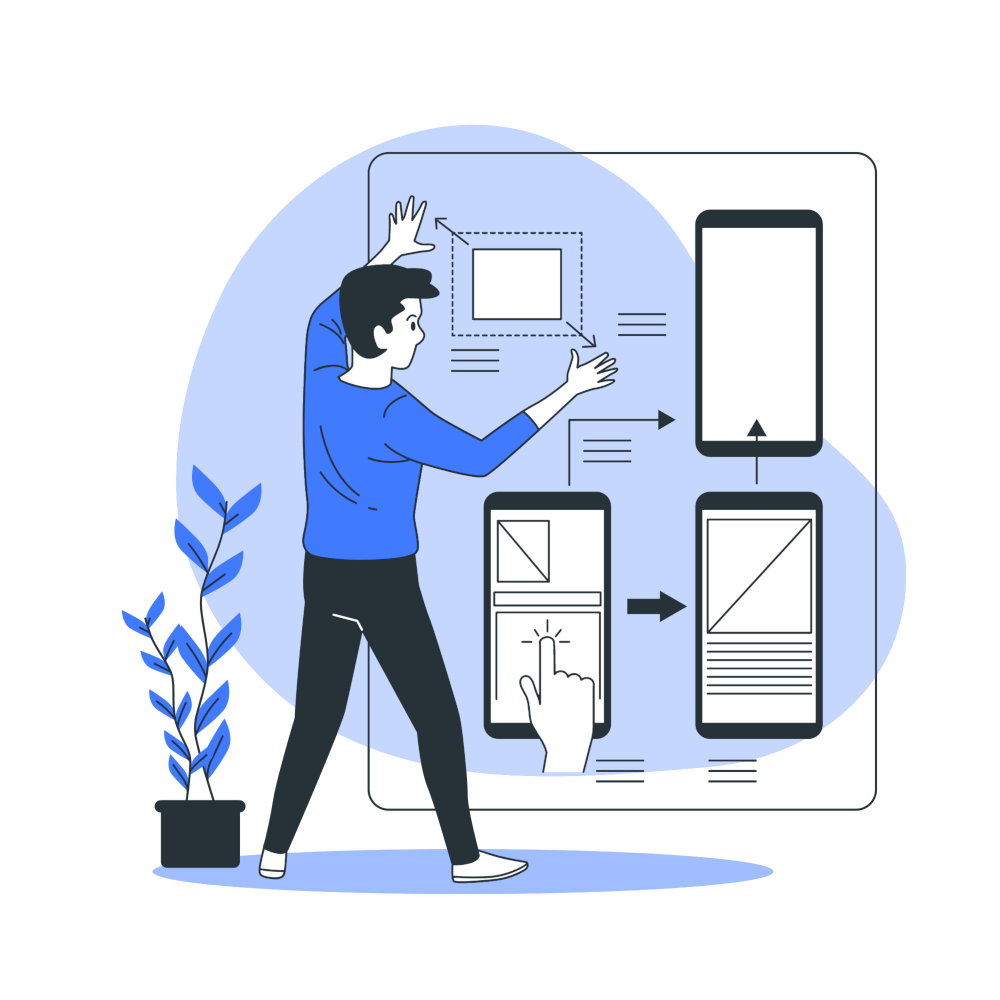 Factors that impact your choice of platform
There are a number of primary variables that will influence your selection of which platform to work on initially when it comes to Android versus iPhone app development.
These are the following:
Target audience
Cost and availability of talent
Process of costing and reviewing
Monetization
Target Audience
When deciding between Android and iOS app development, you must first examine the percentage of your target audience who owns a smartphone and the mobile OS they are using.
Form a clear image of who your target audience is by looking at demographic data such as region, age, income, and gender. There are many online platforms like Statista that'll help you discover these analytics and compare different parameters easily.
Based on your research, you may discover that your target audience prefers one platform over another, such as iOS, providing you a compelling incentive to choose that platform over the others.
The more information you have regarding smartphone ownership rates and platform preferences among your target audience, the better equipped you will be to decide which platform to build your mobile app on first.
Cost and availability of talent
In general, there isn't much of a cost difference between iOS and Android mobile app development. Android apps are normally written in Java, whereas iOS apps are usually written in Objective-C or Swift.
Although hiring Objective-C developers can be up to 15% more expensive, they only have to write for one system (iOS) and can typically complete development 30-40% faster than Android developers, so the expenses are balanced.
This is due to the fact that Android app developers must produce apps that function on a variety of devices, whereas iOS developers are solely responsible for Apple products. It's helpful to know that Android development can take longer in terms of budget and timetable.
Process of costing and reviewing
It's useful to be aware that getting an iOS app authorized for the App Store takes longer due to Apple's more demanding review procedure.
Unlike Android apps, which are typically authorized within a day or two, iOS apps must follow a tight set of criteria.
It's vital to remember that, no matter how difficult App store submissions are, if your market research shows that your target market prefers iOS devices, then this is the platform you should focus on first.
Monetization
The last thing to think about is your app's monetization plan, or how you'll make money from it. The Google Play Store produced around 88% less income than Apple's app store last year, accounting for over 75% of all global app downloads.
This means that if you create for iOS, monetizing an app through a subscription model or in-app purchases will be more profitable. Moreover, since premium users usually own an iPhone/iPad, it's easier to drive sales through in-app purchases.
However, if in-app purchases are not going to be the main revenue model, you can also choose Android as the target platform for your app. Studies have revealed that Ad-based monetization performs better on Android apps.
Android app developers are also getting better at driving customer spending, according to statistics. Year over year, expenditure on the Google Play Store increased by 27.3% in 2018.
Conclusion
Still undecided about whether you should start with iOS or Android app development? RV Technologies specializes in assisting entrepreneurs and businesses in determining the optimal approach for their mobile strategy.
Having developed hundreds of mobile apps for both Android and iOS, we can help you pick the right platform (based on your business objectives) and bring your vision to reality with attractive designs, quality development, and continuous testing. So, whether you're searching for iOS or Android app development, we can assist!
About the Author!
Ranjit Singh is the founder & Director of RV Technologies and has been an avid technical blog writer too. His passion for business and writing informative articles on mobile app development is commendable. With years of experience in the IT industry, he has been able to bring up the best marketing solutions through app development that guides you at each and every step.